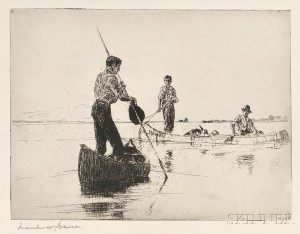 By Faith Andrews Bedford, Benson Biographer
In 1915, at the urging of several artist friends to whom he had given some of the etchings and dry points with which he'd been experimenting for several years, Frank Benson hung a group of what he considered his better etchings at a one-man exhibit of some of his recent oils. They sold out in a week. Unable to keep up with both producing etchings and selling them, he asked gallery owner George Gage of Cleveland to be his agent. "I do not deserve any credit for sellingyour prints as they sell themselves," Gage wrote Benson the following summer. "I mean absolutely what I say when I tell you that I do not know of anyone today in the etchings field who is doing as good work as you are."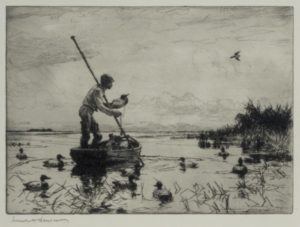 It is quite likely that the gentleman who put together this stunning, large collection, which is now being offered for sale, obtained most of these prints from George Gage or directly from the artist himself. Over several decades, this collector assembled a group of prints that are not only wonderful examples of Benson's lyrical impressions of wildfowl but also represent unique and rare images of very different subjects.
Benson is known for his depictions of birds. His images of ducks taking flight, eagles soaring through a sky or a hunter setting out decoys are iconic. But who knew he created prints of women: holding a fan, looking out a window, or cradling a child? And what a surprise to find that he could depict the delicate foliage of a spring landscape, or a river meandering through a marsh. Benson's landscapes and portraits, bookplates and depictions of women appear to have intrigued the original collector for there are many such prints in this collection.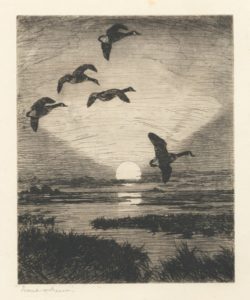 Benson gave the Boston Public Library one of almost every print he made. Yet some of the prints in this large collection are so rare that they are the only ones in private hands, A few others come from a run of just two or three editions. Their rarity makes these prints more valuable. Of other prints, there exist fewer than ten. In thirty three years of studying, researching and writing about Frank W. Benson, I have never seen any of these rare works come up for sale either at auction or privately.
In order to settle the estate of this discerning collector, the executor has asked me to list the prints here. The prices are the appraised values and reflect that they are being sold directly from the estate without auction or dealer commissions. Click on the list and enjoy viewing the many different ways that Frank W. Benson was able to depict nature, wildfowl, and people in using just black and white. Just as his Impressionist paintings were praised for their stunning use of light, his etchings are all about light and design as well. Flames leap from a campfire, dark geese soar across a moonlit sky, ducks rest in a misty pond or the first rays of dawn streak a morning sky as two hunters pole out for an early shoot.
I have examined these etchings; all are in excellent condition, each one the best of an edition. They are mounted on conservation mat and enclosed in archival glassine envelopes. They have always been kept in a climate controlled vault.
Please contact me regarding how you can obtain some of these prints for yourself.