For all of you who fell asleep while listening to Goodnight Moon or read it to your children or grandchildren, there's a new book out that features a Frank W. Benson painting guaranteed to help little ones drift off to sleep as they dream of rocking in a small boat on a gentle sea.
Goodnight Boston is one of  a series of regional books.  As the description  notes: "Many of North America's most beloved regions are artfully celebrated in these board books designed to soothe children before bedtime while instilling an early appreciation for the continent's natural and cultural wonders. Each book stars a multicultural group of people visiting the featured area's attractions."  Obviously, the book's author and illustrator visited Boston's Museum of Fine Arts for,  in the middle of the book,  is a wonderful, simplified version of Benson's famous Calm Morning, one of the best loved works at the MFA.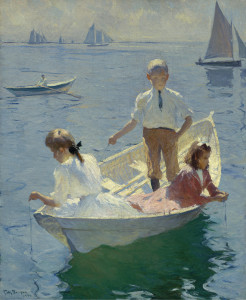 To create this work, Benson posed his three oldest children in an Atlantic dory and tied it to the end of the dock at the family's summer home Wooster Farm, on North Haven Island in Maine.  Eleanor sits in the stern, holding a fishing line.  Her younger sister, Elisabeth,  holds her own line over the starboard side of the boat.  And George fishes from the port side.
Eleanor later told her children that George took great delighted in rocking the boat  from side to side and making his sisters scream.  This is perhaps why Benson used him as a model – when he was a child — in only three finished paintings (Evening Light, Calm Morning and The Hilltop).  When I was the guest curator at the Farnsworth Art Museum's exhibition "Impressionist Summers: Frank W. Benson's North Haven,"  I enjoyed doing a special tour of the show for the children and grandchildren of the exhibition's sponsors.  After introducing them to the figures in the painting, I asked  them what George was doing that one should never do in a boat.  Immediately several hands went up as the children shouted, "Standing up in a boat!!"
Benson was always deliberate in his composition.  This classic pyramidal design evokes a sense of solidarity even as George assumes a rather precarious stance.  As Benson advised Eleanor, who later became an artist in her own right,  " A picture is merely an experiment in design. If the design is pleasing, the picture is good, no matter whether composed of objects, still life, figures or birds. Few appreciate that what makes them admire a picture is the design made by the painter." She once told her daughter that there were no actual boats in the background.  Her father added them to create a good composition with proper interest and balance.
When Calm Morning was reproduced in St. Nicholas, a magazine  for children, the writer  of the accompanying article observed, "Hidden somewhere about Mr. Benson's studio, I am convinced there is a little jar marked  `Sunshine' into which he dips his brush when he paints his pictures of the summer. It is impossible to believe that mere paint, however  cleverly laid on, can glow and shimmer and sparkle as does that  golden light on his canvas. " Benson's varied brush strokes and sparkling colors create the illusion of brilliant sunshine flooding the painting. The reflections on the stern are masterful, and his use of deeper colors conveys the shadows that the boat casts upon the waters.
Benson was extremely pleased with Calm Morning.  Writing to a friend he said, "This is, I think, my best out of door work."  It was ultimately bought by Charles Coolidge, a friend from Museum School circles. Coolidge had seen the painting in sculptor Bela Pratt's studio,  who was storing it for Benson – his close friend and fellow teacher at the Museum School. Charmed by the resemblance of the  Benson children to his own three, Coolidge bought it on the spot. His family later donated it to the Museum.
Benson did not often create studies for his oils but he created three oil sketches for this painting. Perhaps because wiggly George could not bit still for long.  Two of the sketches were of Eleanor in the stern of the boat and one was of George and Elisabeth.  In addition,  the artist  later created a related work — a quick oil sketch of George and his friend Henry Chaplin titled Two Boys in a Boat (sometimes improperly called "Boating at Vinalhaven").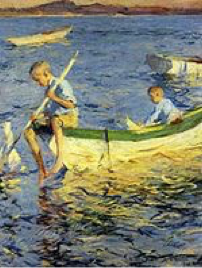 Benson also used the oil as the inspiration for an etching.  He copied the painting on the copper etching plate, making design adaptations to fir the smaller format. When the plate was run through the press, it produced a reversed image of the original design.